Magnetic recording has kept top position among a number of data storage technologies. There are many kind of magnetic media such as tapes, disks, cards and so on. For each medium, for example, video tape, DAT or hard disk, various standards are defined.
Our products enable easy and accurate observation of such magnetic records.
---
Colloidal Products
Thanks to the ultra fine ferromagnetic particles, about 10 nm in diameter, even submicron bit pitch records can be detected. With our sophisticated techniques colloidal particles never settle even during a long period storage. They are very suitable for observing recorded patterns of hard and flexible disks, DAT or video tapes.
Using them is very easy -- only applying a small amount of a Colloid to the part to be observed and letting it dry, then the patterns appear.
There are three types:
1. Contained in a bottle with an applicator -- coating rod made of porous plastic.
2. Contained in a felt tipped pen.
3. Contained in a plain bottle.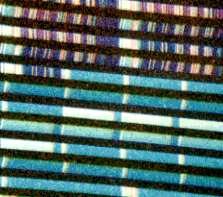 Video Patterns