---
| | |
| --- | --- |
| | SIGMA HI-CHEMICAL INC. |
Attracted by magnets--- the fluid's unique properties have charmed many researchers in various fields. A number of applications have been proposed, and some of them such as rotating shaft seals, vibration damper, tilt sensor or angle sensor are materialized.
Magnetic Fluid is a composite which consists of well dispersed ferromagnetic ultra-fine particles and vehicle. It acts ferromagnetically as a whole. We have completed Magnetic Fluids based on a variety of fluids, and they have high reputation in the field of seal, especially very high vacuum seal using alkyl-naphthaline or perfluoro-polyether base Fluid, and also in other applications.
Our Magnetic Fluid is composed of base liquid, ferromagnetic particles and chemically adsorbed surfactant. The vigorous thermal-movement makes particles avoid settling, and the repulsion caused by surfactant prevent aggregation between particles. As a result, it is so stable that no separation between solid and liquid, nor agglomeration of particles is seen even under a strong magnetic field.
The base liquids of Magnetic Fluids we serve are water, hydrocarbons and perfluoro-polyethers. The ferromagnetic materials used are magnetite and Mn-Zn complex ferrite.
Applications
Rotating shaft seal:
Damper:
Loudspeaker:
Sensor:
Sink & float separation:
Magneto-optic devices:
Vacuum, gas, dust and mist seals
Use of viscosity increases in magnetic field
Use of damping effect and heat transfer
Combination of transformability and magnetic properties
Use of fluid's buoyancy changes in magnetic field
Fluids' big double refraction in magnetic field
STANDARD MAGNETIC FLUIDS
Fluid Type
Base
Magnetization
mT at 1.2
MA/m
Viscosity at 20°C
mPa-sec
Specific Gravity
at 20°C
Vapor Pressure
Pa at 20°C
Applications
M-300

Water
36
35
1.37


Sink & Float Separation
DS-50
Iso-paraffin
-
100
1.40


General Test
DS-60
Iso-paraffin
-
-
1.40


Display in the water with glass bottle
A-300
A-400
A-500
A-600
A-800
Alkylnaphthalene

34
40
50
60
80
260
300
550
900
2500
1.26
1.30
1.42
1.52
1.63
<1*10-7
<1*10-7
<1*10-7
<1*10-7
<1*10-7
Dust seal
Vacuum seal
P-306
Poly-alpha-
olefin
32
300
1.20


Seals, bearings, loudspeakers

F-310
FH-40
Perfluoro-
polyether
40
40
3500
20000
2.20
2.20
<7*10-8
<5*10-14
Heat, solvent, oxidation and radiation resistant
Vacuum seal, bearings
The above are typical data, should not be considered specification.
MAGNETIC FLUIDS' PHYSICAL PROPERTIES

AUDIO MAGNETIC FLUIDS
Fluid Type
Base
Magnetization
mT at1.2MA/m
Viscosity mPa-sec at 27°C
G2005
G2050
Poly-alpha-olefin
22
22
500
5000
The above are typical data, should not be considered specification.
AUDIO SPEAKER PROPERTIES WITH MAGNETIC FLUID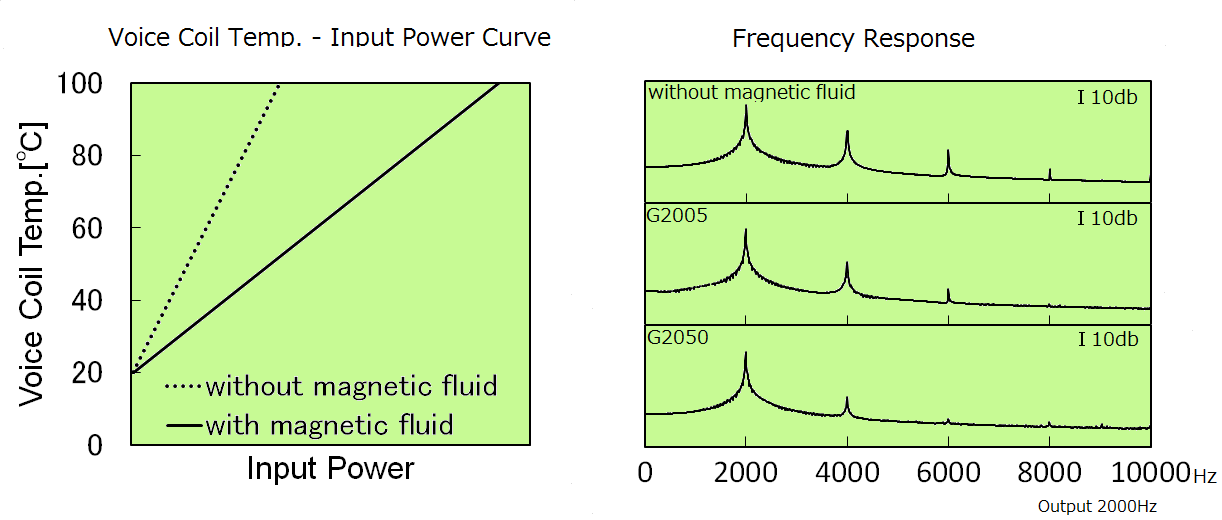 The temperature rise of the voice coil is suppressed.
The harmonic distortion can be avoided by damping effect.
---
E-mail: info@sigma-hc.co.jp